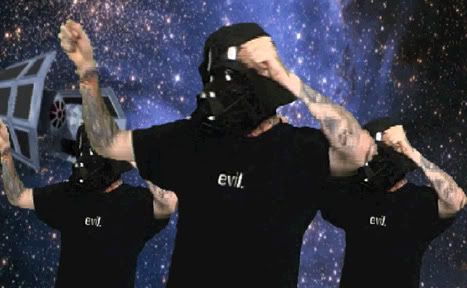 My pal and
Lenore
comic book artist Roman Dirge aka
taxidermied
told me once that he often wears a Vader mask while he works...and dances. I didn't believe him, and so he made this music video as proof to us all who doubted his "gettin' jiggy" abilities.
Here ya go...
be sure to save it to your harddrive to play over and over again --
and as not to ruin his bandwidth...because chances are he may be takin' this down if he gets way too much traffic.

Quicktime 4.89 megs
OR
Mpeg (MP4) 4.42 megs
(Right click and "save target as")
-if it doesn't work for you, or you're only hearing the audio, try updating your Quicktime.
Read more about his music video here.