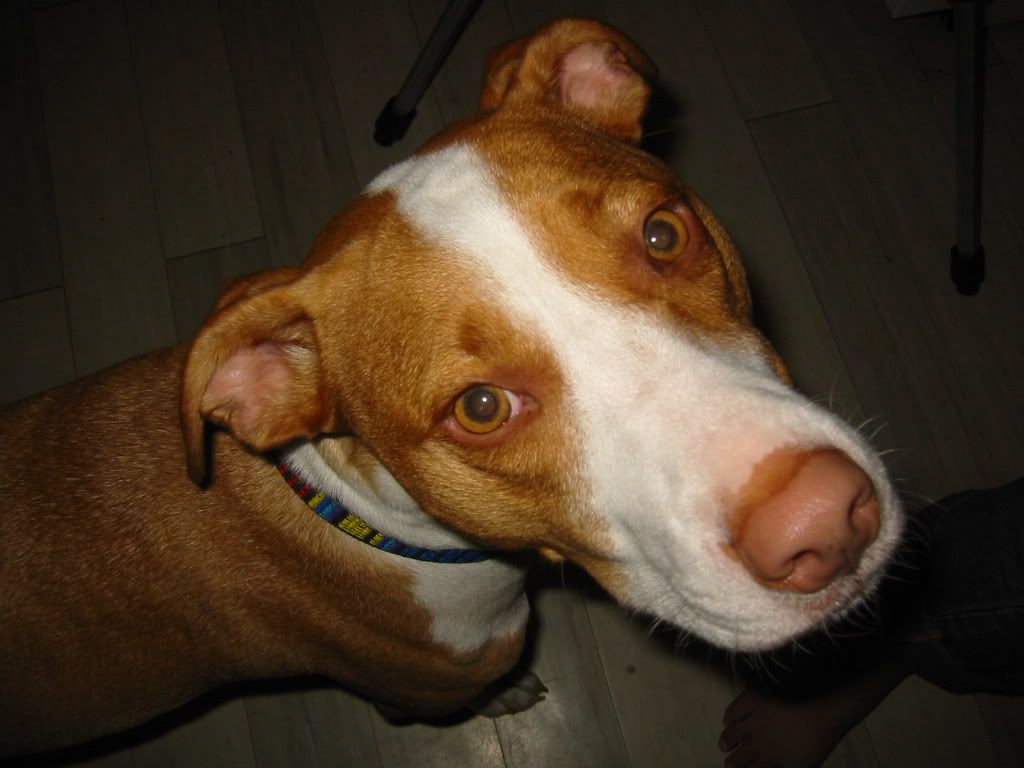 Friday night I stopped by Steve and Sharon's to check up on Sophie. She wasn't feeling so hot but we finally got her to eat something -- ham & gravy baby food. She would only lick it off of Steve's fingers, but this was a big improvememt since she really hadn't been eating. She still wagged her tail when I talked to her but she was still not really up to snuff.
So Steve took her to a specialist the next day and they ran a bunch of tests, which actually ruled out tetanus after all. So it seems that she either just has a bacterial infection or her immune system is attacking her joints causing arthritis. Either way they sent Steve and Sophie home with two kinds of antibiotics, and also gave her some steroids so she could get around.
I showed up again on Saturday to hang with Steve and the dog, while Sharon was at work. This time around Sophie seemed to be functioning a bit more. She could get around and even though she was puttering around the house slowly she seemed in better spirits and she was eating the canned prescription dog food and drinking water on her own.
Last night I spent the night on the sofa bed, and Sophie slept in her dog bed next to Steve and Sharon's bed in their room. In the early morning hours around 5am, Sophie slowly came into the living room and actually JUMPED on to the sofa bed where I was -- which is huge since her joints are giving her so much problems. Then she curled up next to me and went right back to sleep. I was so happy she wanted to be near me, but of course so sad she was still not 100% perky pup.
She's peeing outside more (Steve still has to carry her downstairs) but at least she's starting to walk intead of wobble. Now she's asleep at my feet as I write this. She seems lethargic from the meds, but at least she's licking our faces and responding to us more.
The doc says that if it's what he thinks it is, she should be fine in a few days, if not then it's something else which may take months for her to fully kick it. But either way she'll be fine. And that's music to my ears.