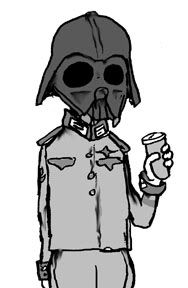 Check out today's LJ posts from Lenore comic book artist Roman Dirge --
otherwise known around these parts as
taxidermied.

Today in his entry -- Drawing like Roman 101 -- which explains step-by-step how he draws his comics he makes note that wearing a Vader helmet helps him get his work done in a timely manner...as you can see in his illustration above.

And here he is in an actual photo with the Vader helmet on.

The dark side works in mysterious ways.....